CLE Signature THT-EKE 03/17 - CLE Signature THT-EKE 03/17 is another absolute gem of a cigar from Christian Eiroa! While Christian is keeping the blend under wraps for now, we do know that it uses a Cameroon wrapper that was grown in Jamastran, Honduras and we are sure there is some of his signature Corojo in there somewhere. The name ( CLE Signature THT-EKE 03/17) is also of secret origins, but "it's something important". Fans of Eiroa and CLE absolutely should pick this cigar up. This was one of Brandon's favorite cigars he smoked at PCA when it was announced. Look for tasting notes of cuban coffee, nuttiness, cedar and cinnamon. We are sure this first batch will go fast, so grab a  CLE Signature THT-EKE 03/17 today! 
CLE Signature THT-EKE 03/17 Details:
CLE Signature THT-EKE 03/17 Size: Robusto 5x50, Toro 6x54, Gordo 6x60
CLE Signature THT-EKE 03/17 Strength: Medium
CLE Signature THT-EKE 03/17 Tasting Notes: cuban coffee, cedar, cinnamon 
CLE Signature THT-EKE 03/17 Estimated Smoke Time: 45 minutes - 70 minutes
Regular price
Sale price
$16.85
Unit price
per
Sale
Sold out
View full details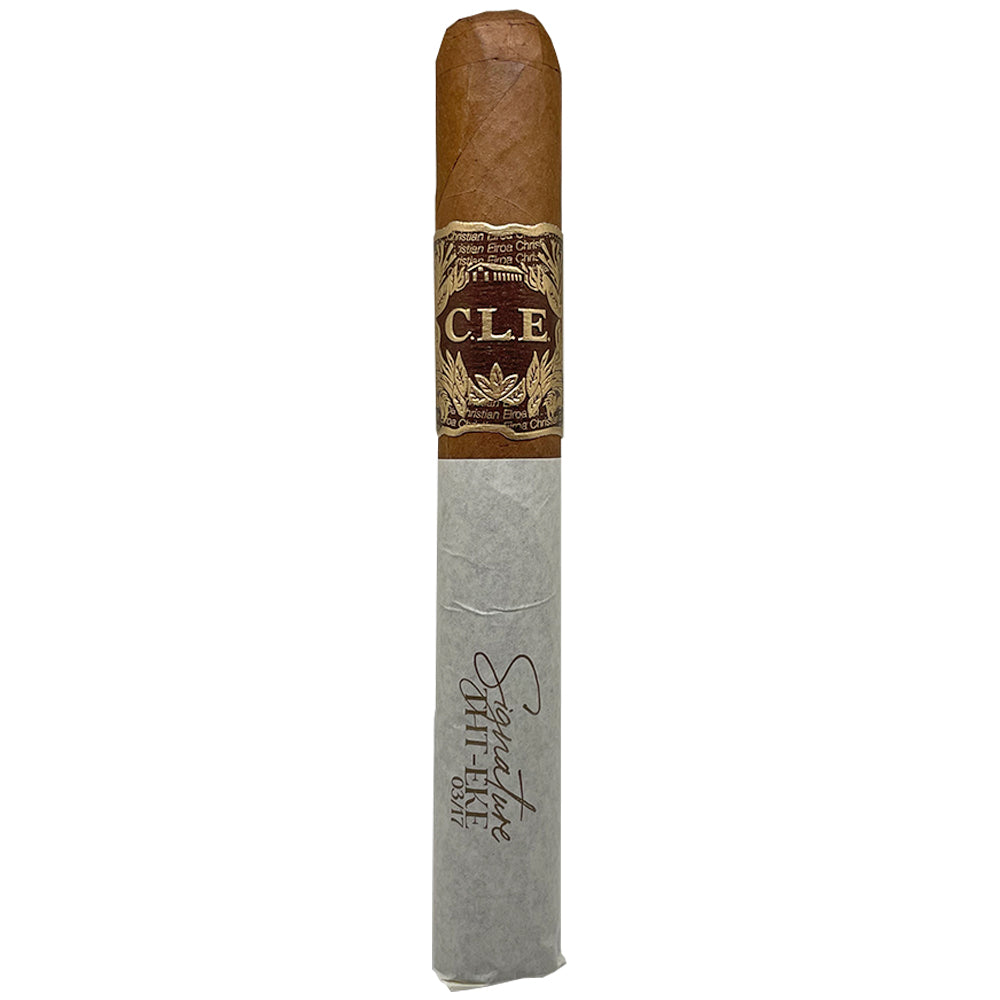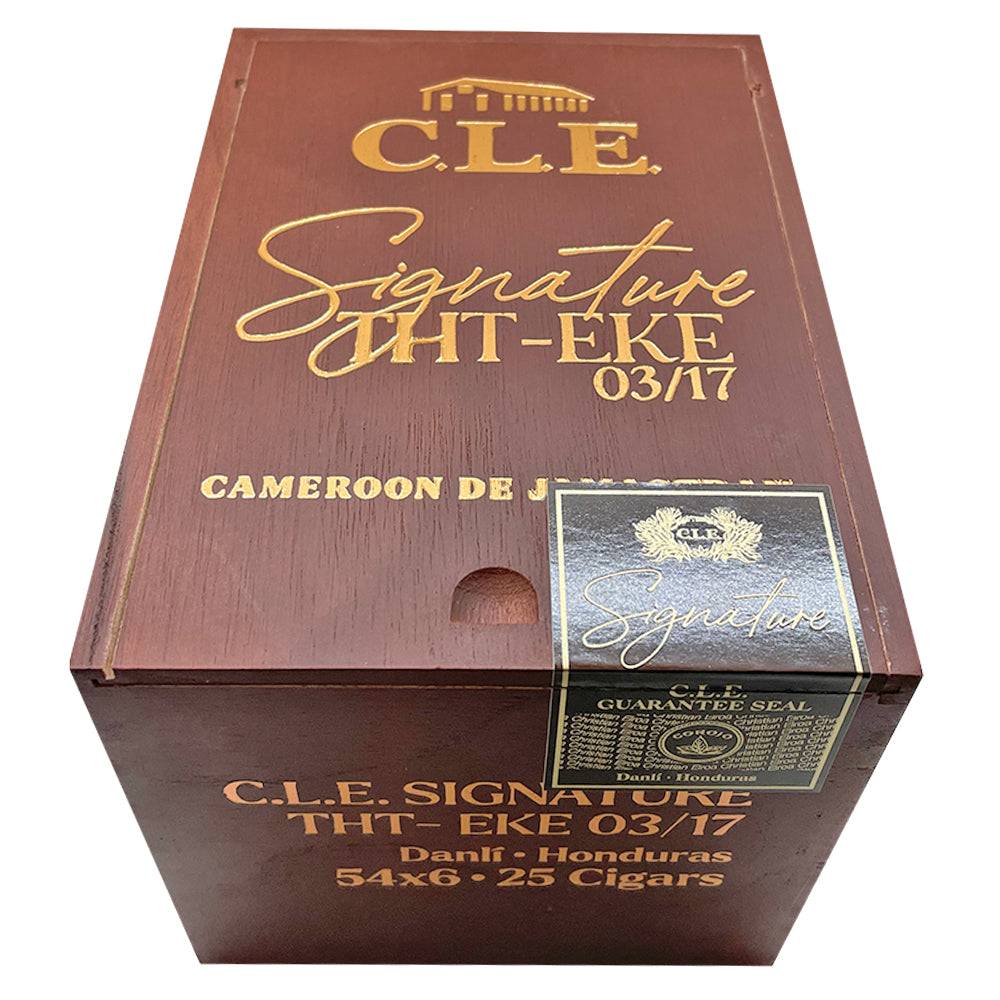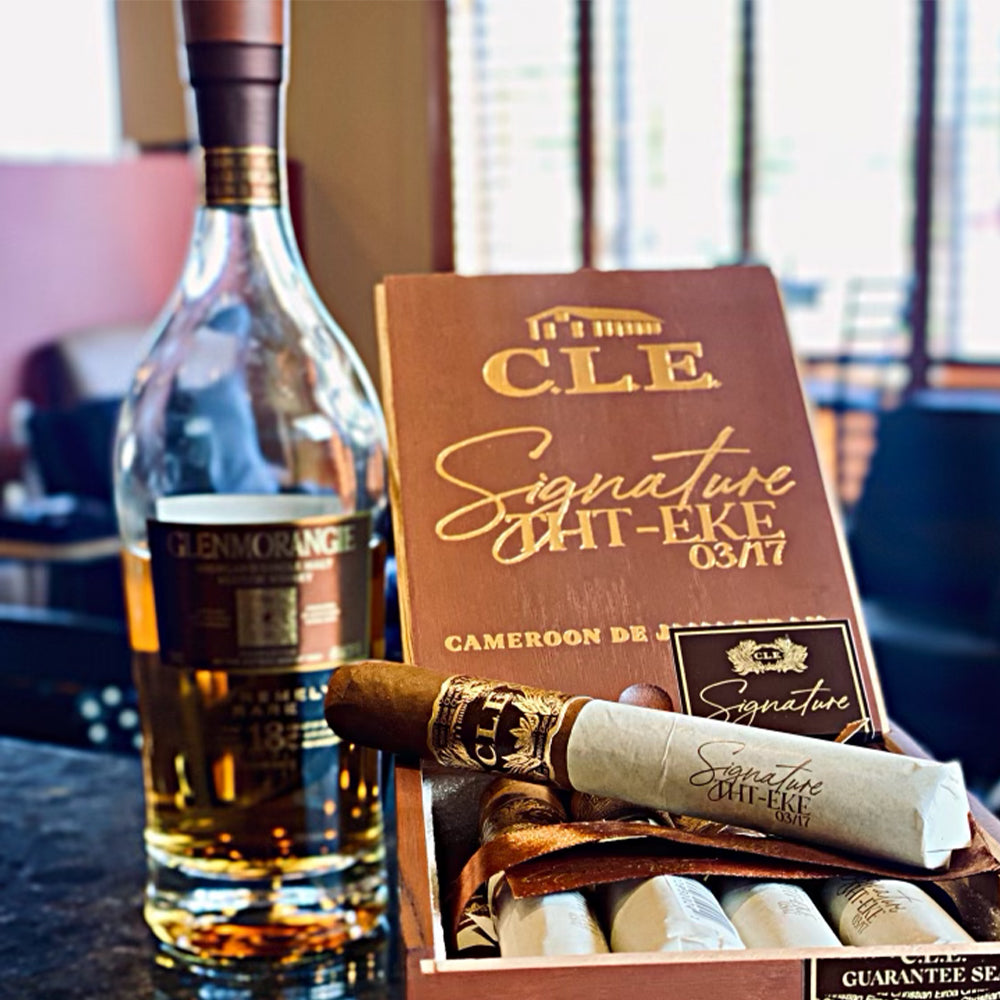 https://cdn.shopify.com/s/files/1/0469/2475/9197/files/brandonsreview.jpg?v=1604865278
Brandon's Review | CLE Signature THT-EKE 03/17
Brandon's Thoughts: Headed into the PCA trade show there wasn't many cigars I was more excited to try than the The C.L.E. Signature THT-EKE. Christian Eiroa's cigars speak to me in a way that not many other cigars do. I intentionally made CLE a first stop of the day so that I could give the cigar a try with a clean pallet. The C.L.E. Signature THT-EKE is the first time Christian Eiroa has ever used a Cameroon wrapper on one of his cigars. This Cameroon is unique in the fact that it is Honduran grown. The cigar smokes medium strength and is full flavor. At first light, you notice a heavy cedar flavor in combination with some nutty flavors that you would expect from Eiroa's Corojo tobacco. As you get into the second third of the cigar, you start to notice it builds in both intensity and sweetness. The aroma of the cigar is similar to what you would expect from a vanilla bean coffee when it is brewing. It finishes with a perfect burn line and clean on the pallet - as you would expect from a super premium cigar. The overall profile is more what I would expect from CLE and less like what I would expect from a Cameroon wrapped cigar - but I am not complaining. For me, this cigar definitely deserves a try and lives up to its expectation and price point.
About Renegade Cigars
At Renegade, you will find one of the largest humidors in the Dallas area. You will find the best selection of the most popular brands that are desired by people all around the country. Our humidor houses a perfectly curated selection of major brands that you cannot find anywhere else in the cigar world.
Aged smoothness
Another fantastic CLE cigar. 5 years of aging lends a smoothness to the savory Cameroon leaf.