ADVentura King's Gold is not to be missed! ADVentura produces this cigar with a combination of the finest 5 year aged American, Dominican and Nicaraguan filler, bound in a beautiful San Andres leaf, then finally wrapped in a Connecticut broadleaf wrapper. The resulting cigars are then aged for an additional 4 months post-roll. The time and expense pays off though, with royal like tasting notes of orange, white pepper and oak mingling together to create a full-bodied and creamy smoking experience.
We'd reccomend savoring this cigar after dinner with your favorite old fashioned. The smokey and toasty notes in a nice Bourbon really play well with the oak and white-pepper notes in the King's Gold, while the bitters are a match made in heaven with the orange notes!
Due to the quality of tobacco and aging times demanded for a such a cigar named "Kings Gold", this was only produced in very limited quantities. While not a true limited edition, these are definitely worth grabbing while you can in a variety of sizes. 
ADVentura King's Gold Details:
Size: Robusto 5x52, Toro 6x54, Corona 6x44
Strength: Medium 
Tasting Notes: Orange, white pepper, oak
Estimated Smoke Time: 45 minutes - 65 minutes
Regular price
Sale price
$14.82
Unit price
per
Sale
Sold out
View full details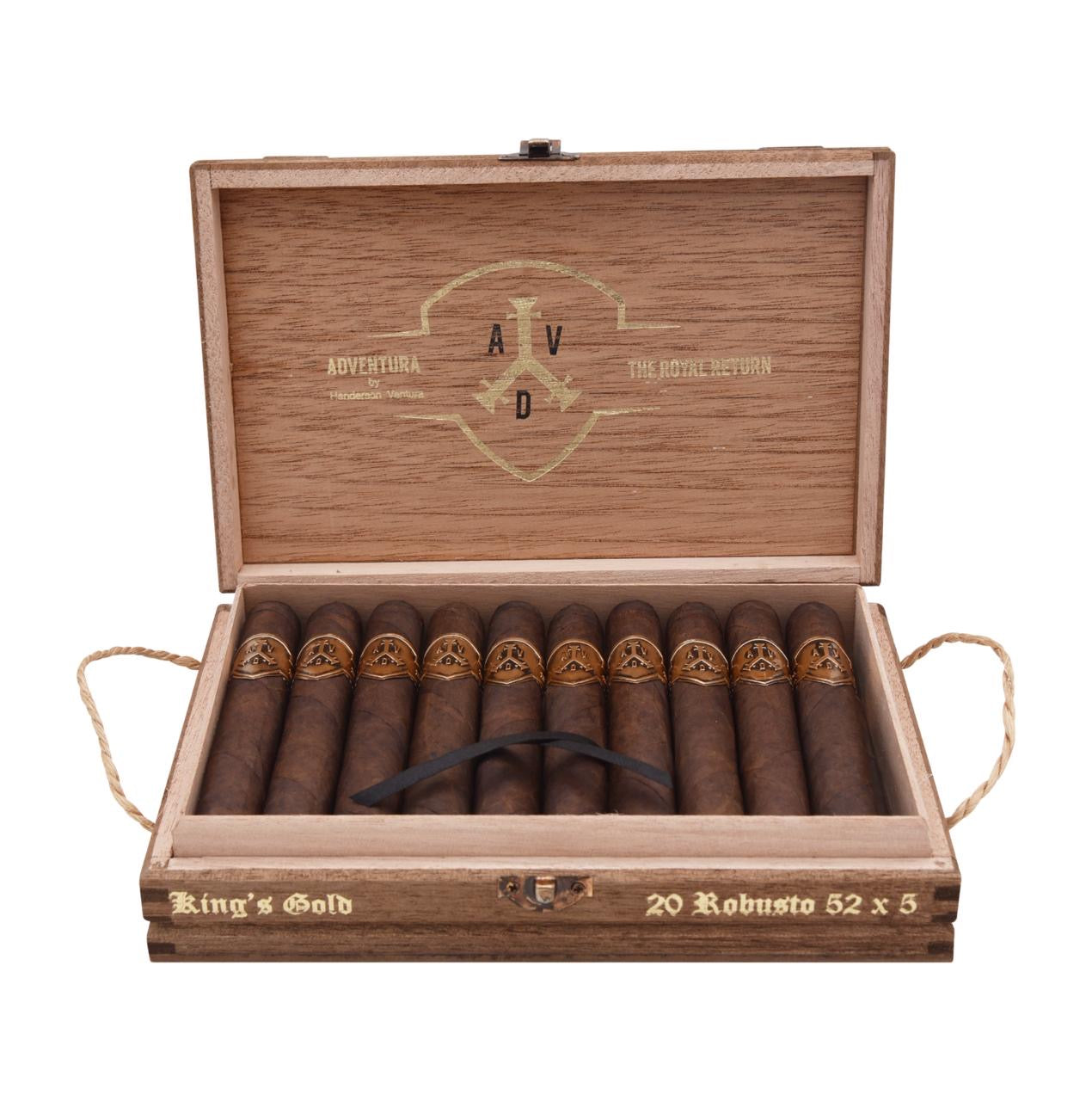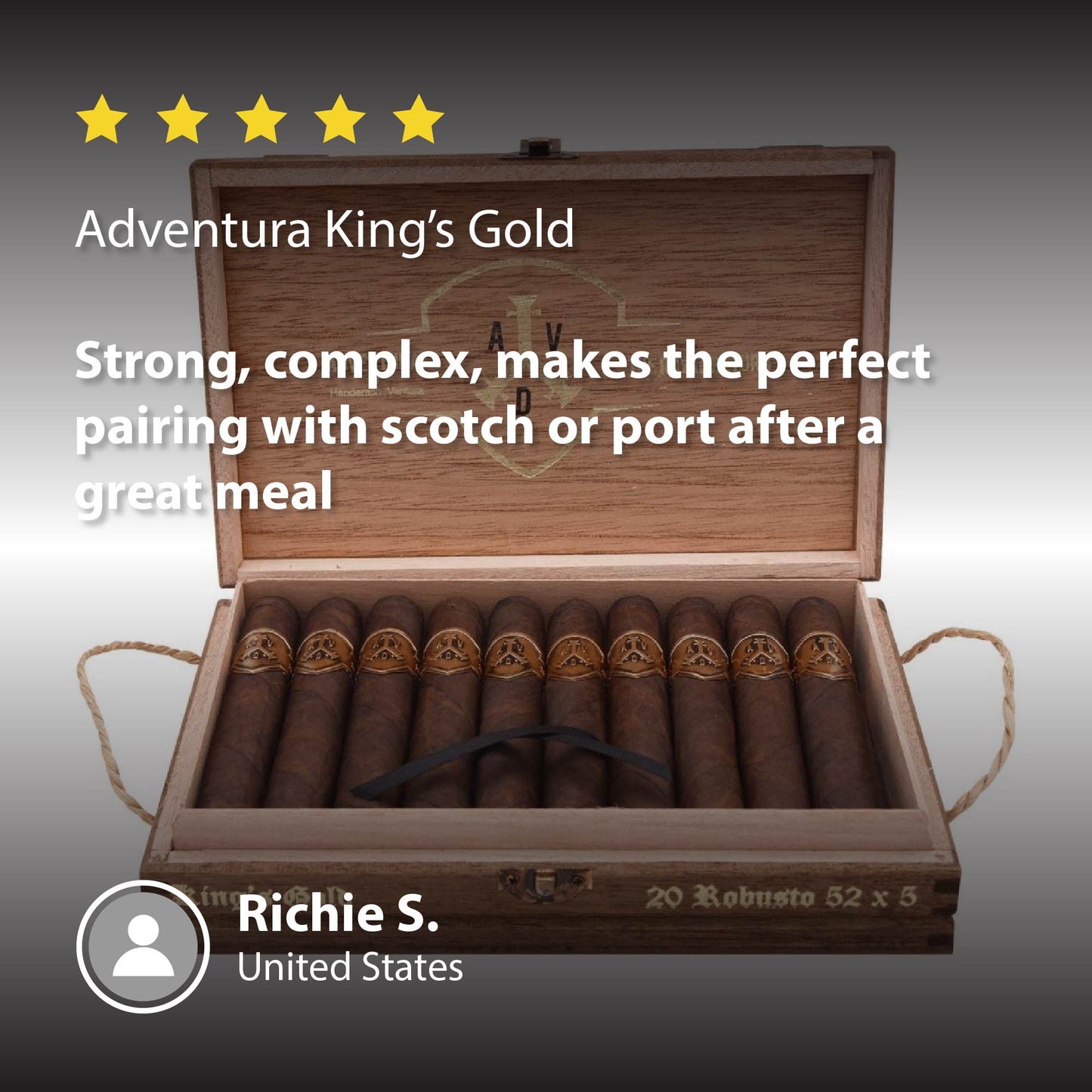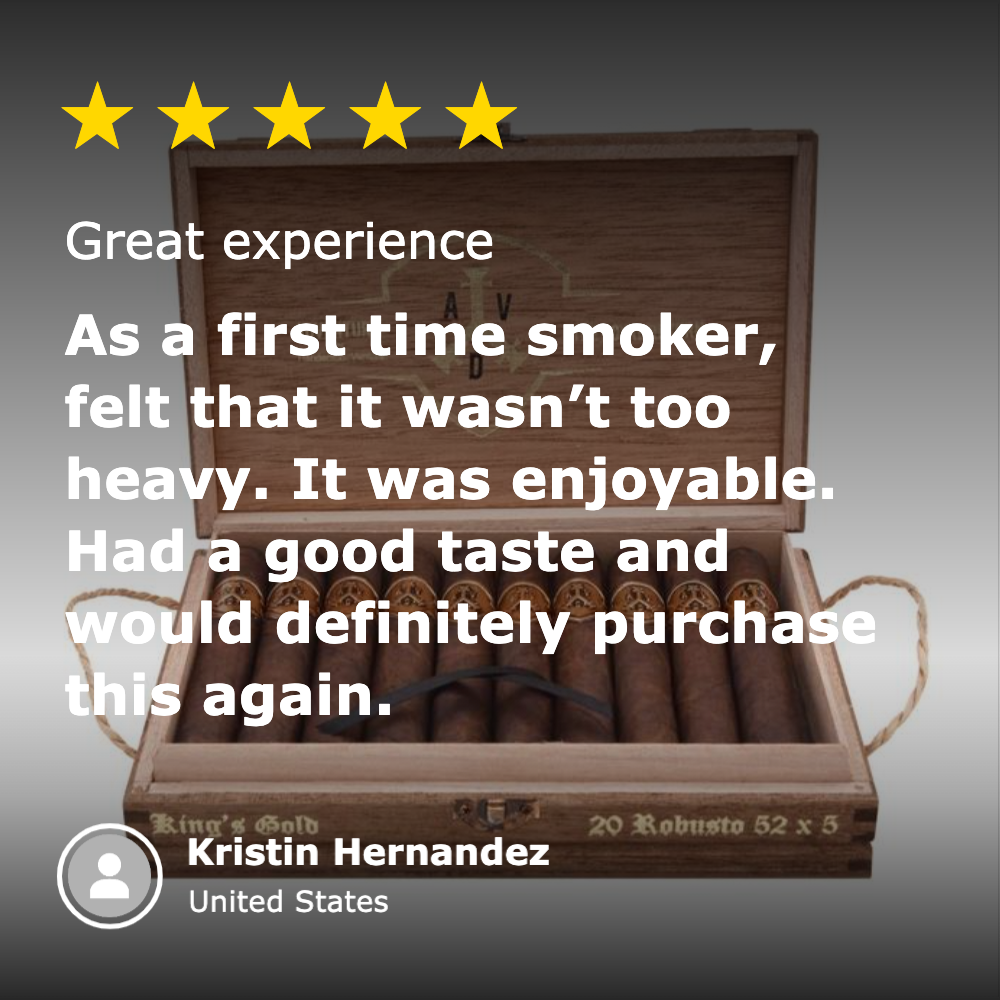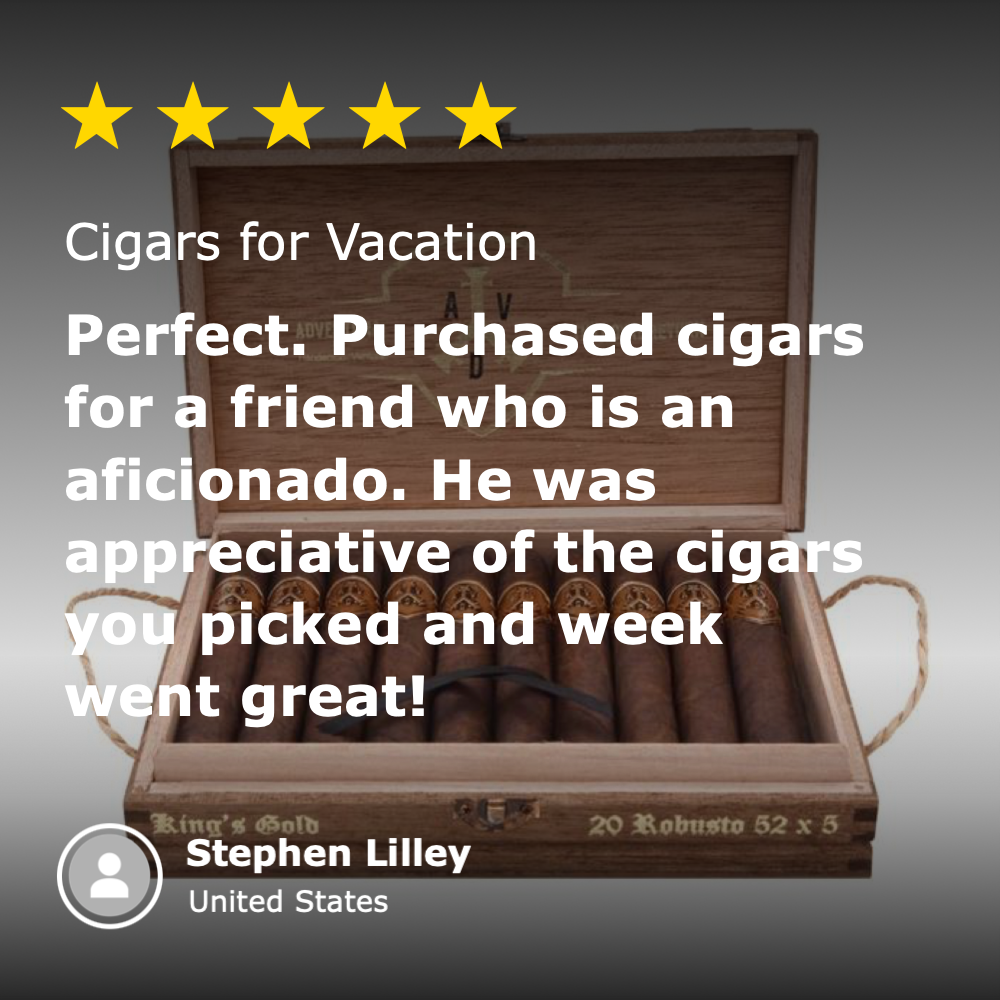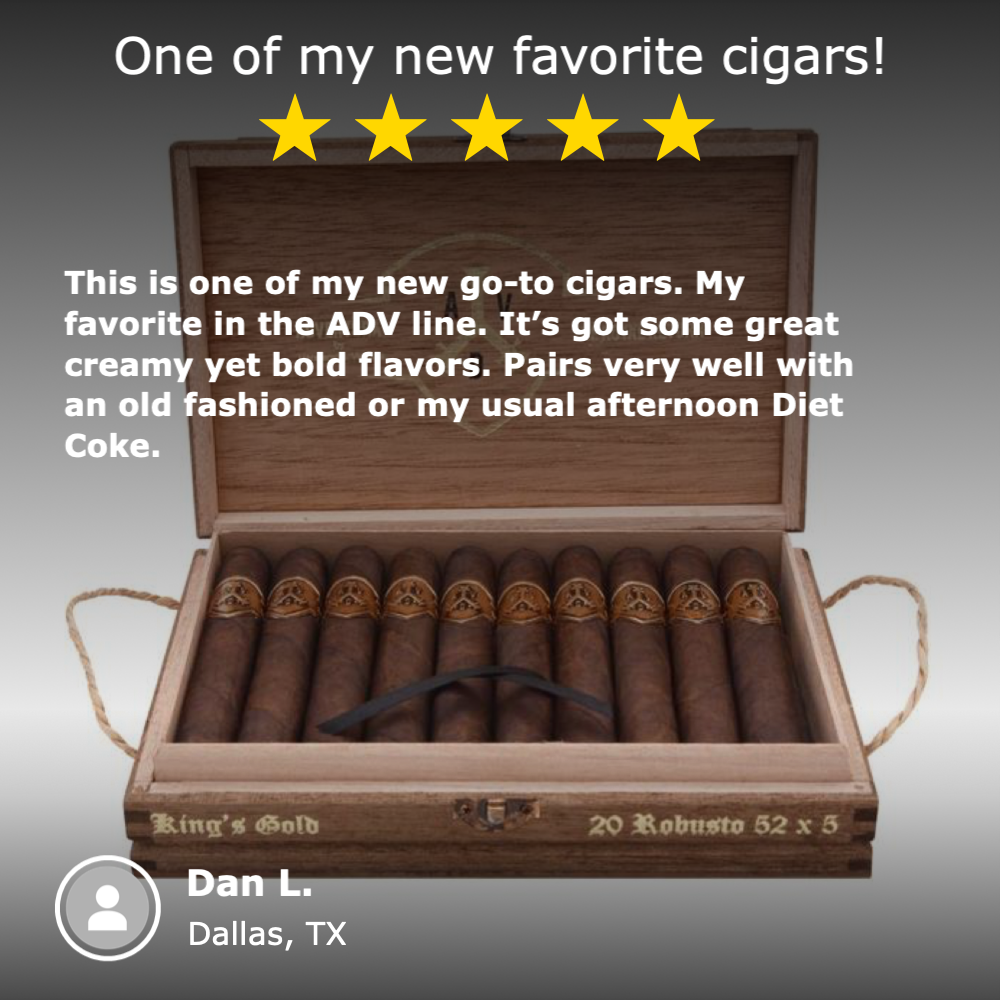 https://rumble.com/embed/v16j2by/?pub=16c0oy
Brandon's Review | Adventura King's Gold
Brandon's Thoughts: It is no secret that I am a fan of Henderson's work, and the King's Gold is no exception. In fact, I keep waiting for a release to disappoint me, but they seem to keep getting better and better each time. While I am not usually a fan of full bodied broad leaf cigars, I find myself craving this blend. In a lot of broadleaf cigars on the market, the blend is dominated by the wrapper. This is certainly not the case with the King's Gold. When you smoke this cigar you can see how much thought went into the combination of Nicaraguan, US and Dominican fillers and how each was added to bring value and complexity. The King's Gold is one of the cigars I recommend to try when you have nothing else to do and want to contemplate the complex layers of flavor in a cigar.
About Renegade Cigars
At Renegade, you will find one of the largest humidors in the Dallas area. You will find the best selection of the most popular brands that are desired by people all around the country. Our humidor houses a perfectly curated selection of major brands that you cannot find anywhere else in the cigar world.
Pure Decadence
It has to be one of the fullest-body cigars I've ever had. The Barbarossa might be the only other cigar (and it's also an ADV) that comes close. I don't think of it as a strong cigar, however. I would say it's more high medium than full. I get a bit of chocolate, cream and wood as I work my way through it. Even more chocolate and cream on the retrohale and the woodiness drops away.
Adventura King's Gold — A good smoke!
Good full-bodied smoke. I enjoy the experience, and recommend.
Adventura Kings Gold
Brandon asked the style of cigar I had enjoyed in the past and recommended this cigar.
Excellent in every way and I will purchase again.
One of my new favorite cigars!
This is one of my new go-to cigars. My favorite in the ADV line. It's got some great creamy yet bold flavors. Pairs very well with an old fashioned or my usual afternoon Diet Coke.