The 8th Anniversary cigar from Renegade celebrates 8 fantastic years in business. Made in coordination with Henderson Ventura, this special cigar is made using a secret blend of well aged Dominican tobaccos that was originally released in 2018 in a Corona Gorda size. These go fast, do not miss out on your second opportunity to get these now in a new 46x4.5 size. 
Regular price
Sale price
$8.50
Unit price
per
Sale
Sold out
View full details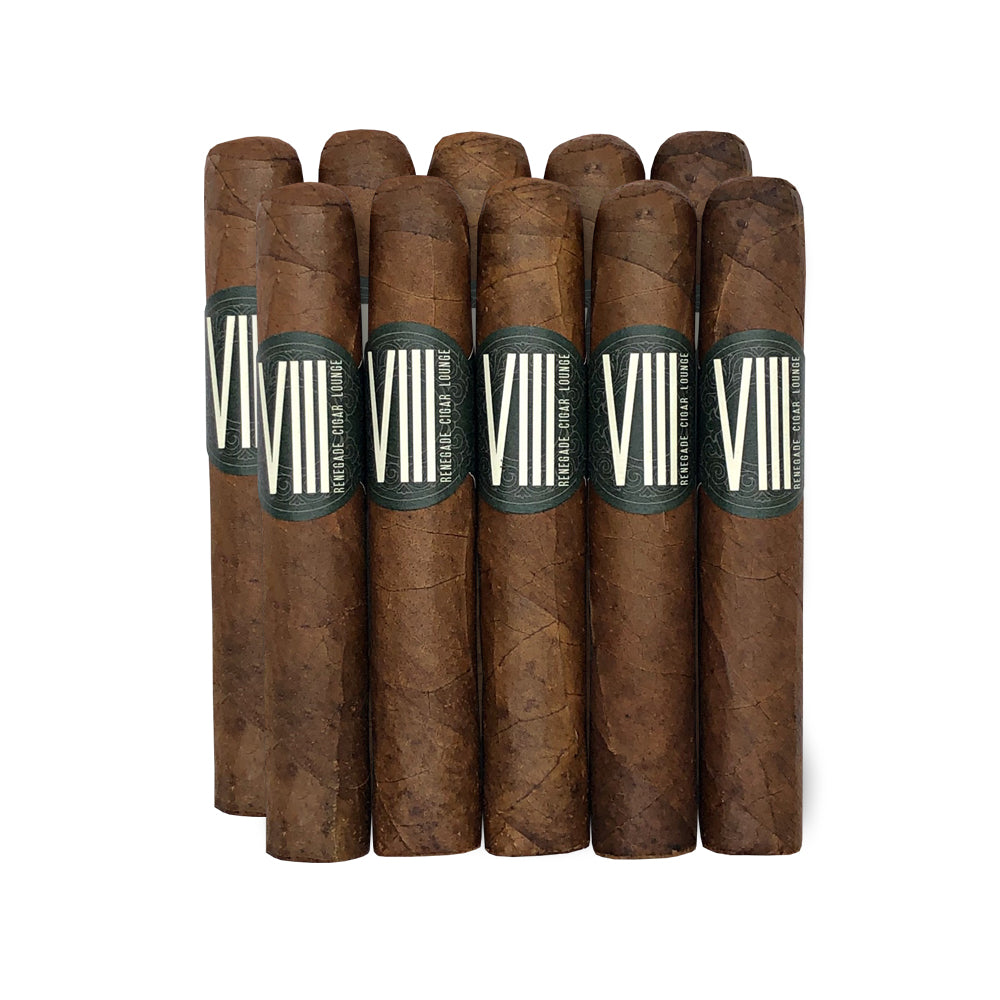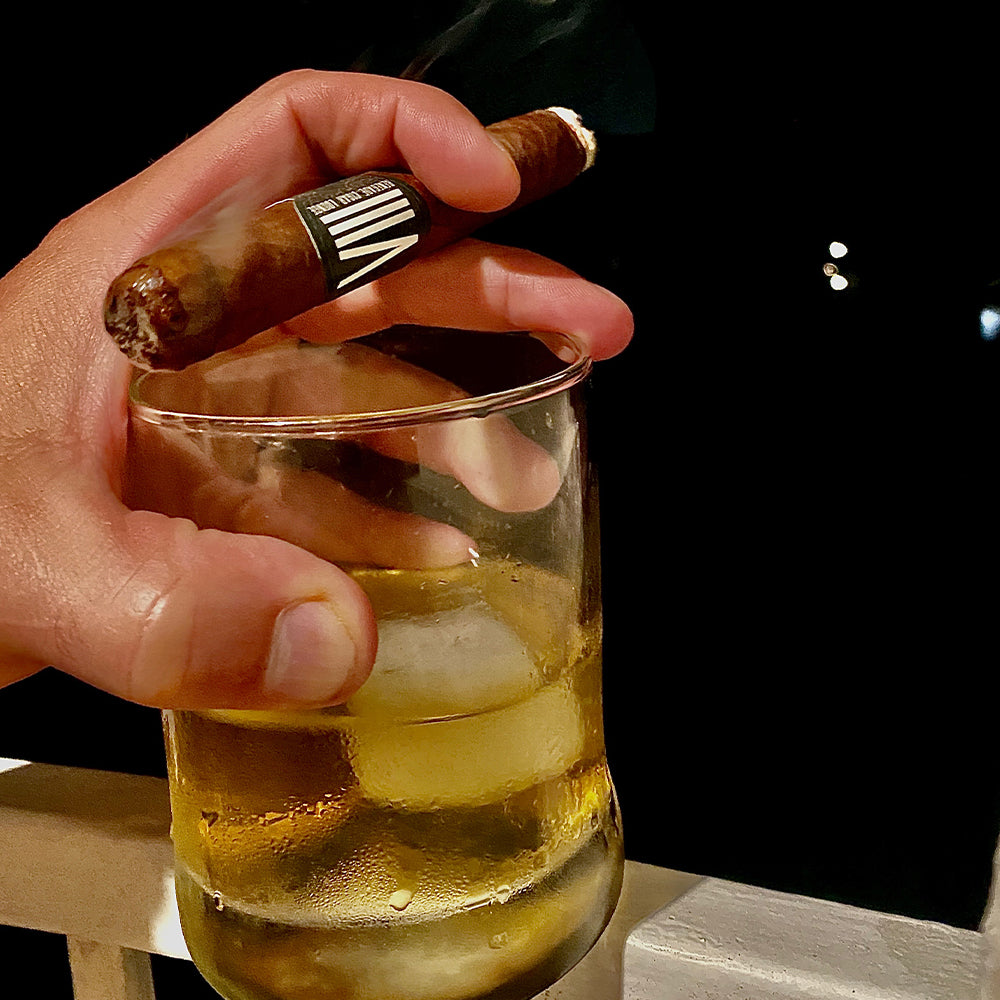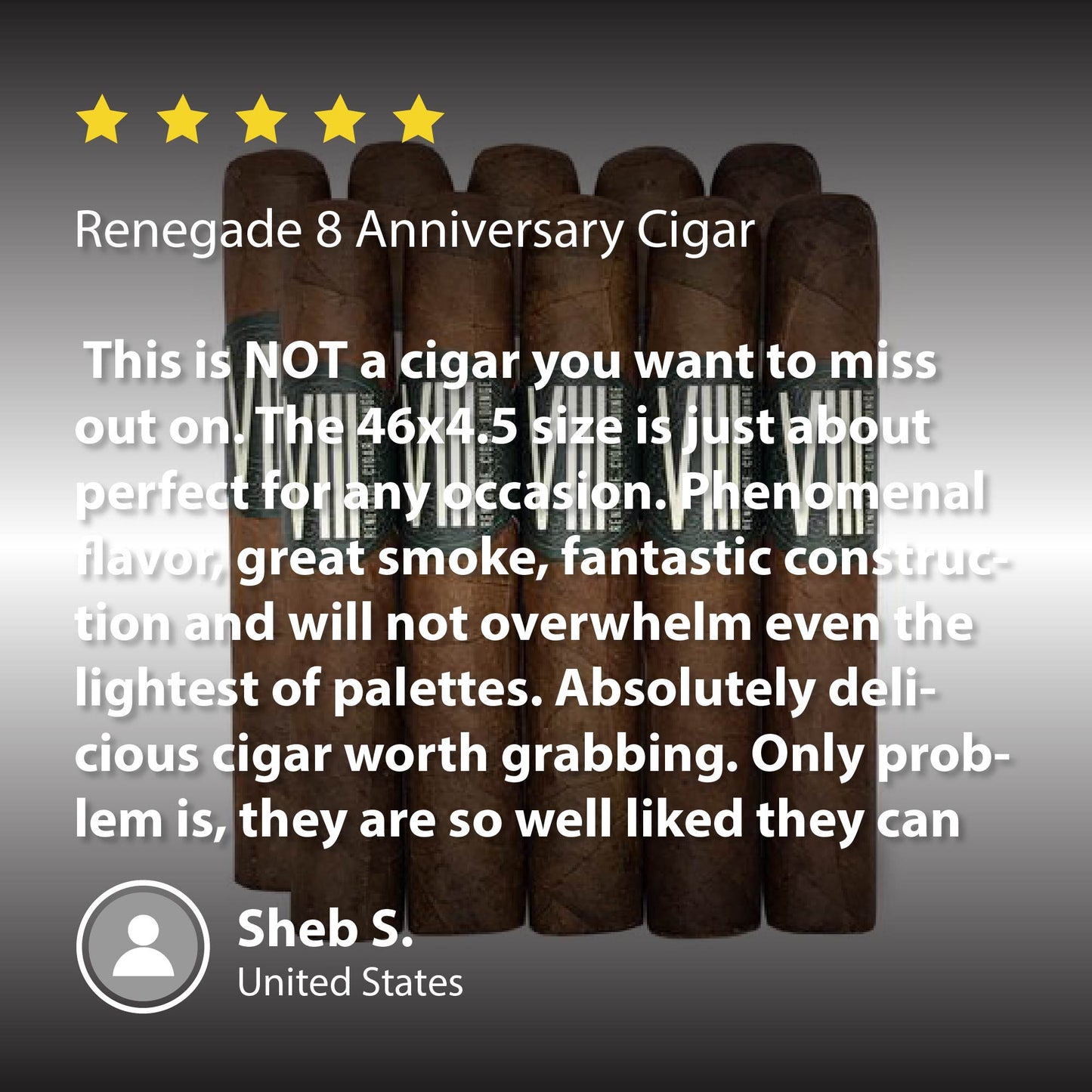 https://cdn.shopify.com/s/files/1/0469/2475/9197/files/brandonsreview.jpg?v=1604865278
Brandon's Review | Renegade 8
Brandon's Thoughts: I may be more proud of this cigar than anything else that bears our name. This was the first of project working with Henderson Ventura and we started strong.I was looking to accomplish something special - something that would get peoples attention with this release. A cigars that was rich and full flavored, yet not too strong. Thankfully Henderson opened the vault and allowed us to utilize tobacco to accomplish just that. The cigars delivers a rich and complex smoking experience with flavors and leather, roasted almonds, coffee and cedar. Suggested pairing: Glenmorangie Signet
About Renegade Cigars
At Renegade, you will find one of the largest humidors in the Dallas area. You will find the best selection of the most popular brands that are desired by people all around the country. Our humidor houses a perfectly curated selection of major brands that you cannot find anywhere else in the cigar world.
do not pass this one up!
while not the latest release from Brandon and the Renegade crew, this is NOT a cigar you want to miss out on. The 46x4.5 size is just about perfect for any occasion. Phenomenal flavor, great smoke, fantastic construction and will not overwhelm even the lightest of palettes. Absolutely delicious cigar worth grabbing. Only problem is, they are so well liked they can be difficult to find! Get em while they last, you will NOT have any regrets.
Great stick
I really like this one. The flavor profile fits my preference of a nice medium full flavor cigar.
This like most of the recommendations was a great addition to my go to's.